Tokiji Series
"Numerals that represent time" is the direct translation of the Japanese word, Tokiji. This watch gives the archetypal seven-segment digit the respect it deserves. These vivid numbers are generously spaced across a consistently black dial, surrounded by a minimal case.
Tokiji was conceived as a digital watch in an analog body, as its design is modeled after a traditional chronograph with a crown and two pushers, but in our case, all three of these are pushers.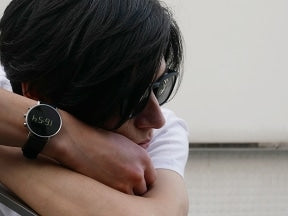 It has all of the functions expected of a digital watch these days. Time, date, 2nd timezone, alarm, stopwatch, and backlight. It is no more complicated than any standard digital watch, but is one notch above due to its striking display. Its liquid crystal display is unique due to an innovative technique developed by Normal Timepieces that eliminates glare. This exclusive process is part of Tokiji's final assembly, and quality checking performed by us in Japan.